One of the most important cost-cutting measures during times of crisis is, wrongfully, applied to the marketing budget. It is usually done as an immediate response because nobody is buying and the returns on any advertising costs are not visible. But history has proven this line of thought wrong.
Back in the 1920s, the most important cereal brand was Post. When the great depression hit, Post cut back on a large part of their marketing budget, whereas Kelloggs doubled theirs, Spending heavily on a campaign for its Snap, Crackle and Pop cereal. Kellogg's revenue soared by 30% and has since then maintained its position as one of the most important dry cereal brands.
Another example can be found in the fast food industry during the 90s recession. Whilst McDonalds cut back on its advertising and promotions budget, Pizza Hut and Taco Bell increased theirs to fill the gap left by McDonalds. Pizza Hut's revenues increased by 61% and Taco Bell's grew by 40%. On the other hand, McDonald's sales fell by 28%.
Yet, spending more on advertising is not the only solution. It is the final step in an effective marketing campaign run during a recession. The key to this efficiency is to target, create, and tweak the right message for any future customers, through the right channels. All of this ensures a good return on investment. This can be achieved by looking at our market.
An Extremely Competitive Market
The florist market is an extremely competitive one. Retail-focused florists compete with other florists, large internet companies with deep pockets and multiple retail points (supermarkets, petrol stations, etc..). Furthermore, during this recent COVID-19 crisis, many online companies are still operating and are taking up a big chunk of the market.
In events, florists not only compete against other florists, but also with wedding planners who incorporate floral elements into their business activities. Wedding locations and caterers also do the same.
During times of recession, competition both in retail and the event sector will get fiercer, and new participants will no doubt join the market.
Today, more than ever, florists need to be smart and take especially good care of their customers. It is necessary to look at the competition, appreciate any changes, and put into place eye-catching advertising at the right places. A competitive edge is essential: at a local level, and with your current customers.
The essentials
Some florists hold grandiose dreams of delivering at a national scale, competing with the big players in the game. They believe the best strategy is to look for new clients because these big competitors, who are not florists, don't know about floristry. While florists can probably present better bouquets, building this business plan as an independent florist is flawed on many dimensions, and we know this from our own experience.
The local market offers so many more opportunities and competitive advantages than the national market for various reasons. The first is branding and trust. People in your local area know your brand and trust it. Building this same trust at a national scale is done over several years – and unless you have an unlimited budget or you were an early adopter of the internet like 1-800-FLOWERS, maybe you'd have a shot. 
The second reason is that your knowledge of the local needs and preferences is priceless. This is an essential marketing tool you have picked up through experience. At a national level, each region, city or town has extremely different preferences which you can't cater to. 
Finally, it is far cheaper to focalise advertising and marketing campaigns in one area. It is also highly more profitable and effective. Stretching out the same budget nationally is not advisable. Hence, specialising in your local area, particularly during in times of crisis, during recessions and periods of recovery, is smarter and more efficient than dreaming of a national venture. Staying local and catering to your customer base is the most effective strategy to guarantee growth.
There is the belief that 20% of your customers will make up 80% of your income. Too right. During a recession, although these customers may spend less, they must become your top priority. You must hold on to your target market and understand that the buying habits of your day-to-day customers will have changed. Don't expect the crisis to end and everything to remain the same. You need to understand the new social status-quo after the crisis, and determine how flowers fit into your customers' needs and everyday expenses. 
How? 
You need to understand what goods and products fall into those considered essentials (goods necessary for survival), which are considered treats (goods whose immediate purchases feel justifiable), postponables (goods needed or desired but that don't need to be bought just yet), and expendables (goods that are unnecessary and unjustifiable). You need to fine-tune your message to your current target along the lines that flowers and plants are treats, maybe even postponables, and market the right products. You must do this through competitive and affordable pricing strategies (which does not mean price reductions) and whilst building a continued trust.
Aside from the importance of focusing on your customers, crisis and recessions also leave huge local opportunities due to your competitors' changes in focus.
During this crisis, every florist business throughout your country will be undergoing vast changes. These changes will also occur within your local competitors. In some cases, some of your local competition may have gone out of business. The ugly truth is that many independent florists will go bust.
Additionally, local florists who do stick around stay will reduce their marketing budget. Larger competitors who operate at a national scale will be reassessing their marketing efforts, which may not be so locally targeted in your area.
All of this will provide you with the a unique chance, but how to take advantage of it?
Firstly analyse your competition and study what services are not being offered anymore and where. Those are the spaces you need to fill. 
Secondly, this situation leaves you with the chance to spread brand awareness, requiring far less noise to catch consumers' attention. Finally, given less people will be using the same advertising platforms, your bids will be cheaper and give you a higher return than during regular times. How? As demand for advertising decreases and the supply of the these adverts stays the same, prices for those ads will go down. Clever marketing managers know that this is an opportunity to do much more with a smaller budget, especially in online marketing.
Concentrating on online marketing and its channels will be the key to your success. The COVID-19 crisis is having a social and technological impact on consumer behaviour regarding digitalisation. More emails than ever are being exchanged,  people are working remotely, and there is an increased effort in in making work and private lives more compatible. Furthermore, the coming 5G network will make this possibility even more real. 
Confinement measures have made people stay home and depend on technology and smartphones more than ever before. As a result, the use of internet and ecommerce has increased tenfold. This will make online marketing the new norm. 
However, florists have a lot to catch-up to, to play alongside the national players who have done their home work in floral e-commerce. And the new competitors will be just as tech-savvy - remember that the technologies we use today, such as WhatsApp, Instagram, Pinterest and other apps, started as far back as 2009.
Florists who wish to come out stronger must incorporate this change, refocus towards a good e-commerce strategy based on mobile phones, create engaging content, and rope in the opportunities for local advertising through local e-commerce, using marketing on Google and social media.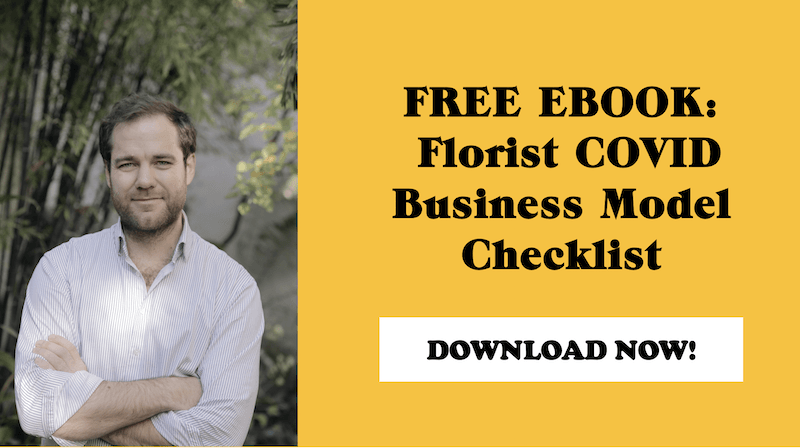 Did you know we have a course on how to manage the COVID crisis as a Florist? NO?! Well, what are you waiting for? Visit the course section of my website and click on The Florist's COVID Management Course.